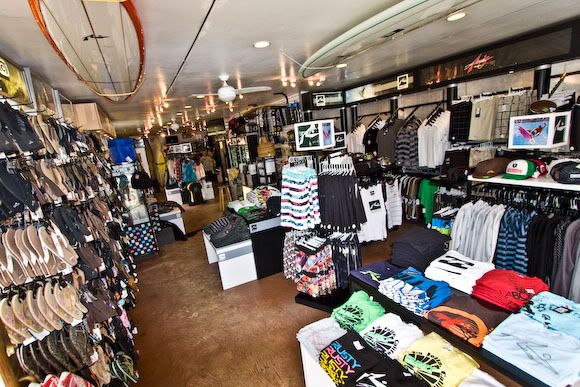 Massive Selection!
The Rusty Board House has been a hub for the local surf community in La Jolla Shores since 1992, providing everything from the best boards on the market to an ample selection of accessories to original apparel and expert advice.
Rusty is the owner of the shop and will grace everyone with a special guest appearance every now and again. However, Garret Scurr, RBH manager, is there nearly everyday and was nice enough to fill us in on a few behind the scenes insights to the shop. RBH is Preisendorfer's baby, his showcase to the world for all his products and I assumed Scurr felt a great deal of pressure overseeing the prestigious outlet, but he has the new and improved shop completely dialed. Cracking a grin he confidently stated, "Like any one of us who grew up at the shop down here, we take pride in working here and try to make it the best we can."
Nestled conveniently on the main drag of La Jolla Shores (2170 Avenida de la Playa - a block from the water), RBH has undergone some major changes over the years. "It has gone from a square to a rectangle," Scurr enlightens us on the previous expansion. In addition to the geometrical differences there have been some other key modifications that have taken place such as the new aesthetic look to the interior of RBH. A few local artists such as Rusty's daughter, Avalon, and former board artist "Goose" (who has dissapeared to Mexico) came in and unleashed a furry of paint to add to the new look of the shop and stamp it with a bit of San Diego flavor. Some other recent improvements can be seen in the realm of the products: in addition to carrying Rusty and RBH apparel, the shop now carries a few other carefully selected brands including Billabong, Reef, Tavik, Allyance, and Rhythm. Plus, the number of surfboard options available at the shop is incredible... RBH can get any Rusty board model under your feet. They carry used and new boards made from polyurethane or EPS and also specialty models like Tuflites or Avisos. Not to mention, if you do not see your dream board in the rack, order a custom Rusty right there in the shop with professional insight and guidance!
RBH has had a significant presence in San Diego for 16 years now and is a place that is very special to the sub-population of La Jolla surfers. The shop is deeply rooted in the area and if you ask all the locals, everyone knows everyone else through RBH. With B.B.Q.s, BZ challenges (foam longboard contests), and timeless traditions, such as being taped to the pole out front (which I have experienced on more than one occasion), there is much camaraderie surrounding the shop and it has been great to be a part of it. I worked there for years following in the footsteps of my older brother who worked there before me. Friends and locals alike come in and out all day for boards, suits, wax, etc. Whether you work at RBH or you just cruise through for a gander you know that the shop has all you could ask for: local knowledge, insane surfboards, unique apparel, and everything in between!

Like a kid in a candy store...

Scurr and one of the many fresh boards in stock, artwork by Avalon Preisendorfer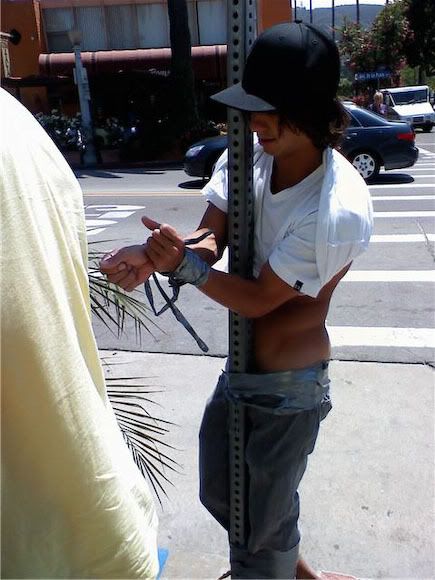 RBH former employee, Derek Zeman, getting taped to the pole for old times sake